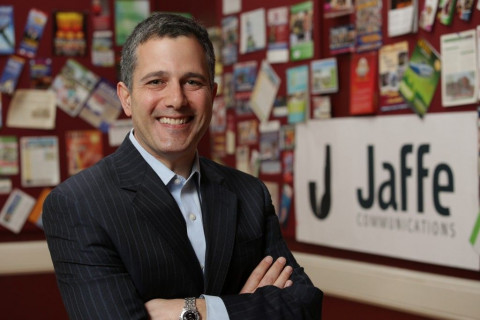 Jaffe Communications, Inc., a full-service public relations, creative services and publishing firm, provides our clients with innovative thinking, reliable communications counsel and tangible results that are evident every day.
These tenets are the backbone of the firm Jonathan Jaffe envisioned throughout his 10 years as a general assignment reporter at The Star-Ledger of Newark, and professor at various universities. He has since greatly expanded on his journalism background and organized a team of creative and talented public relations and media experts to coordinate communications, media training and outreach campaigns throughout New Jersey and beyond.
Since its inception in 2003, Jaffe Communications has developed a diverse client base, including Habitat for Humanity, The New Jersey Association of Health Underwriters, Amazon, The Lower Passaic Cooperating Parties Group, Keeping Babies Safe and Verizon.
Jaffe Communications is registered with the New Jersey Economic Growth Commission and is a "preferred vendor" with the state Division of Purchase and Property. We have contracts with such state entities as the New Jersey Council on Developmental Disabilities as well as municipalities and school districts. Our company also publishes newspapers and news websites on behalf of municipalities, including Woodbridge, Roselle and Monroe, N.J.
Jaffe Communications is the only public relations firm in New Jersey that is credentialed through the New Jersey Press Association and State Police as "working press." This underscores the fact that Jaffe Communications has extensive media contacts that can be leveraged on your behalf.
Contact us at: or
Specialties
Advertising Development
Annual Reports
Articles
Arts Events PR
Audio & Video Production
Billboards
Blogging
Brand Awareness
Brand Marketing
Brand Strategy
Branding
Brochures
Business-to-Business (B2B) PR
Communications
Consumer Outreach
Content Marketing
Crisis Communications
Digital Marketing
Direct Marketing
DVD
Email Marketing
Entertainment Industry PR
Event Management & Publicity
Ex.1Media Relations : Press Releases
Facebook
Facebook Management
Fact Sheets
Generational Marketing
Graphic Design
Healthcare & Medical PR
Inbound Marketing
Integrated Marketing
Internet Marketing
Marketing
Marketing Communications
Marketing Research
Media Relations
Media Training
Networking
New Business Launches
Nonprofit PR Support
Online Advertising
Photography
Podcasts
PR
Press Releases
Print Media
Production/Design
Promotions
Public Affairs
Public Relations
Publicist
Reputation Management
Social Media
Social Media Marketing
Speechwriting Services
Strategic Communications
Technology Marketing
Trade Show Support
Web Development
Website Design Services